I haven't watched movies that extensively until just lately and based on what I can remember, I am Mother was definitely worth the watch. It's not a new "new" movie having been first screened in January this year but it was aired 3 days ago on Netflix.
By chance, I suppose, I happened to catch the brief preview of the movie and I was hooked. I saw glimpses of the trailer on human embryos stored in weird small capsules, a scary looking and DEFINITELY not human-looking robot caring for a girl in a facility or bunker, and a sudden intruder invading their seemingly tightly scheduled life. To be honest, the movie trailer did a pretty decent job at highlighting the critical parts of the movie. I didn't know what to expect. It was all unplanned and I didn't want to spoil the moment by reading the movie summary or reviews. If you're having ideas about watching this movie then I highly suggest that you drop everything right now and GET ON WITH IT. I've watched a couple of AI movies before and I was rarely left feeling disappointed.
What is I am Mother About?🙊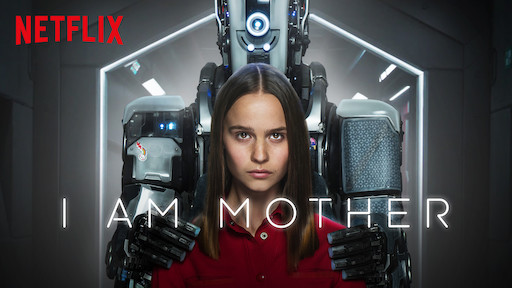 I am Mother takes place in presumably the future and human population is extinct. The story revolves around two main characters, "Mother" who is a robot designed to repopulate humans and "Daughter", a girl the robot cared for from an embryo out of the many that were kept preserved in the facility. The most mindblowing part is that in this world, human embryos can be fully developed into babies within more or less 24 hours (correct me if I got this detail wrong)! But anyway, Daughter continues to grow up being nurtured by Mother and taught on engineering and medical skills, and most pressingly, moral philosophies. Even if the facility is more than equipped of raising more children, Mother insists on rearing one child at a time and as she repeatedly mentioned to Daughter, she needs practice in being a good parent first. Daughter has also never gone outside of the facility walls as it is believed that Earth is ravaged with a disease that had wiped out the human race - the same cause that was concocted by the very self-destructive nature of people.
However, things started to change differently when an injured woman by the name of Swank showed up at their front door asking for help. Her presence in their life raises questions on what Mother has been telling Daughter all this while and if there are more humans outside of the sheltered life she's been led to live in. As a viewer, I initially had at least some reservations for Mother since she seemed to show a genuine motherly and protective behaviour towards Daughter. It wasn't really something I expected to see from a robot and perhaps, there were some justifications for her actions. However, Swank seemed to think Mother and the other robots roaming outside were not as honest as they make themselves out to be. As the only human being raised in the facility and not knowing anybody else other than herself and Mother, Daughter had a difficult time on who to believe.
What are My Thoughts? 😱
I think it's important to mention that I am Mother is not a fast-paced movie nor is it drenched in special effects to spice up some of the frightening scenes you'll see. It is not a heavily budget movie but its simplicity makes up for the raw suspense and human elements that had successfully made me gripped at my laptop screen, hoping it'll all just be over. The movie mainly centres in one setting: the facility and three main actresses which leave more space for the story to play out by excluding unnecessary special effects. Not only that, for somebody who rarely watches that many movies, I felt that I am Mother could be familiar with other mentionable movies you may be aware of but I can't say that the plot twists and shocking revelations later in this movie didn't get me like:
and
and of course...
All in all, its a decent movie that I think you should give it a go whenever you're on Netflix and in the mood to wind down. Let me know your thoughts when you do!
Check out the movie trailer since you're here!